Grace Notes – Mar 6
IN THIS ISSUE…
A Magical Thank You, Silver Set Luncheon, Friday Fellowship, Senior's Computer Class, Worship March 12th, COG Hygiene List, Tochi Buddies
---
A VERY MAGICAL THANK YOU TO ALL!!
A very, very magical thank you to all who came out and helped support our missions at Grace Extravaganza! Because of your generosity, we are closing in on our goals to help fund mission trips for the youth and for Tochi, and for the Center of Grace parking lot and lighting repair.
The Grace Gathering Room and the hallway were filled with gift baskets, merchandise, gift cards and services that were donated by local businesses and many members of Grace. We had a delicious Magical Feast, live music, lots of crazy magical fun, and then more fun with the Nigro Brothers doing the Live Auction. The evening was truly entertaining and profitable.
The website is up and will be through the end of March, with 40 plus items available to purchase with set prices. Donations can also still be made to FUND THE NEED through the 31st of this month. Click on the link below to purchase an item (then click on the AUCTION tab), and use the FUND THE NEED tab to make a donation.https://extravaganza2023.maxgiving.bid/about-usBecause of your commitment to missions, Grace United Methodist Church will continue our mission of Loving God, Living Like Jesus and Serving the World.Questions? Contact Liz Dunsing at
elizabethdunsing@gmail.com or (913) 269-4233
---
---
9:00 & 11:00 AM Traditional Worship
"The Kingdom Comes"
Rev. Mike Chamberlain
Scripture Reading:
Gospel: Matthew 5:1-16
10:15 AM Common Grace Modern Worship
Rev. Kyle Reynolds
We're continuing with our series called Short Stories with Jesus, looking at the parables and what they mean for us today! Join us each week through Easter for a fresh look at a familiar story.
---
Grace UMCcontinues in ministry in central Mexico through medical, dental, optical and support personnel who travel for a medical caravan to Tochimizolco, Puebla, Mexico each spring. We have continued financial support during these last three years even though we have not been able to send a team due to Covid. While Mexico has improved the circumstances of many of its citizens, the rural poor continue to need medical care not provided by the government. The Methodist Church of Mexico, together with Grace and Dayspring UMC in Tempe, AZ, provide a year-round clinic for medical and dental needs at very low cost but during the days following Easter each year, a team from the two churches in the US provide free care to around 500 people free of charge for medical care and another 300 visits each for dental care and optical exams. Medicine is provided free of charge also and the need is great. People show up to wait for care around 6 a.m. and the doctors, dentists, and helpers work from 9 a.m. until 7 p.m.  You are an important part of this medical/dental team by supporting with prayers as well as finances. Each year the needs are similar but punctuated by something unusual that God has brought to the team.  If you are willing to support the team with prayers and a donation, please see the instructions below. The teams have been convinced that the prayer support has helped solve difficult situations in the past and will continue to in the future. For online donations see the link below or on the Grace app choose "Give Now" and under Fund choose "Tochi Buddies." If you prefer to write a check, make it payable to Grace UMC and in the memo line write "Tochi Buddy".  We thank you for your prayers, the opportunity to be in mission and your financial consideration of the Tochimizolco Mission.
---
---
Click Here to Register for Computer Class
---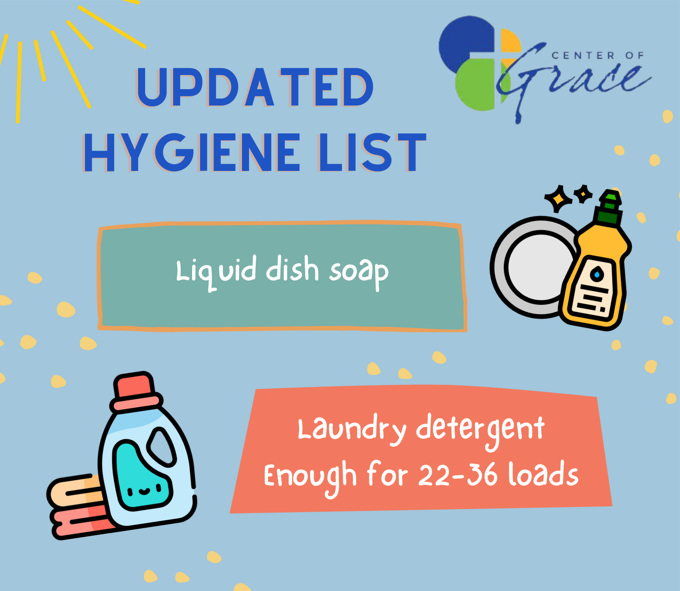 Hygiene items may be dropped off at the Center of Grace or brought to worship on Sunday mornings at the Ridgeview Campus. Look for the labeled box in the welcome areas. Thank you!
---
---