Grace Notes – Nov 16
In-Person Services Suspended
Hey Friends,
As the news tells us the number of positive virus cases is increasing again to a dangerous point.  Out of an abundance of caution, Grace is suspending in-person worship with the hope of coming together for worship again in Advent.  We will keep you informed via our website and other social media platforms.
The head of the NIH, Dr. Frances Collins, is suggesting we continue our diligence in wearing masks, social distancing, practicing good hygiene, and not meeting in group gatherings until the positivity rate, which for Kansas is now over 20%, until we get back to 10% or lower.
On-line worship will continue and we invite you to join us there.  With prayers along with you, we seek God's provision and grace!
Peace, Nanette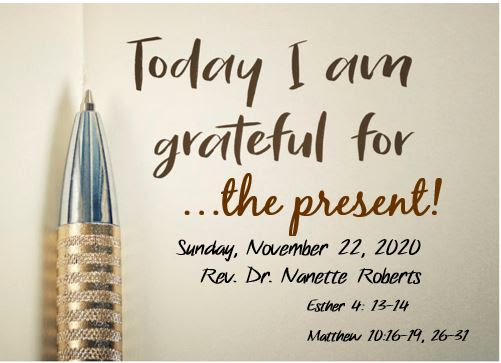 On-Line Worship
Pastor Nanette's Traditional Service at 9:15AM
Pastor Kyle's Common Grace Contemporary Service at 10:45AM 
Join us on Facebook, our website or YouTube as we stream at those times.  If you miss seeing us on Sunday, the sermons will be posted later on the Grace Website, YouTube, Facebook and our Grace App.
Additional Opportunities to Connect 
Chat With Pastors Nanette and Kyle 
Tuesday afternoons at 3:00pm via Facebook
Virtual Coffee Talk With Pastor Kyle
Thursday afternoons from 4:00 to 5:15 via ZOOM
For a Small Group Connection
Join Grace Groups!  Contact: Shawn Foreman sforeman@graceumc.church
Join us as the Christmas story comes alive! Our interactive, walk-through nativity will help bring to life the greatest story ever told, complete with live animals! Get your picture with the camel, cow, donkey, sheep, and goats, PLUS receive an all-ages Advent activity bag to celebrate at home all season long. Additionally we will be collecting coats, jackets, and personal-hygiene products to support neighbors in need through the Center of Grace. This event is outdoors at the Ridgeview campus and best of all it's free. Come celebrate the "reason for the season" with your family and friends.
Masks and social distancing will be required.
RSVP and find out more about the event on FACEBOOK volunteer to help here, or email Pastor Kyle with questions!
Download Gratitude Family Challenge
THANK YOU GRACE…
.. for your response to the 2021 Stewardship Campaign.  Your support of our 2021 Stewardship Campaign is greatly appreciated and will go far to help us do the work of the church.  If you have not yet sent in your "Intent to Give" card, it's not too late.  If you did not receive one please contact the church office and we mail one out to you OR you can contact Mike Pelan and he will take your giving information over the phone.
As you prayerfully contemplate your 2021 "Intent to Give", please know that we continue to use your financial gifts in the most cost-efficient manner possible to reach the greatest numbers possible.  No gift is too small nor too large for the work of the Spirit in this place.  We need you and we need one another for God's work and will to be done.  Thank you for your continued generosity.
Are you looking for ways to help others in our community and around the world?  Here are a few ideas from the Missions Committee at Grace.
Opportunity to help
Grace members have always been people who wanted to make the world a better place in a myriad of ways.  One way that has been difficult to achieve in this time of pandemic craziness is giving to disaster relief.  The Grace financial people have afforded us a way to give through our PushPay system.  There have been so many hurricanes, fires, floods, and storms plus the pandemic, and the United Methodist way to help is through our United Methodist Committee on Relief.  UMCOR works through church Conferences who are assisting local congregations with the things they need in their times of crisis.  If you would like to help, please use the PushPay option on the church website to donate.
Your money will be sent to UMCOR where 100% of the money given will go to relief with no administrative costs.  Your gift will make a difference to a family that is suffering.
Thank you.
Missions Committee
Struggling to find that perfect Christmas gift for your loved one? Consider other alternatives to buying "stuff". Find a gift that keeps on giving the whole year from the Alternative Gift Fair! Help raise needed funds for nonprofit organizations while showing your appreciation for the special people in your life. Give a gift that gives twice!  Purchase a gift from the Alternative Gift Fair online this year from the comfort of home. It's a win-win! Go to www.graceumc.church to learn more!
           Get Ready for the Holiday Season with Pies for a Purpose!
We know this year has been stressful with sudden transitions to homeschooling and working from home, and we're here to alleviate a bit of that stress. Skip the baking or shopping this year and purchase a pie certificate! Pies for a Purpose makes getting or giving Tippin's pies easier than ever! These gift certificates are the perfect gifts for:
Family & Friends
Teachers
Day Care Providers
Employees
Clients
Service Providers
Simply purchase a $15 gift certificate and take it in to any Kansas City metro area Price Chopper now through January 15, 2021, to receive a tasty pie. But the best part is that you can enjoy that pie guilt-free because $6 of every pie purchased will benefit the children and families we serve.
Please Hold Your Donations
Your generosity and kindness has been overwhelming wonderful at the Center of Grace. So much so that we need time for our sorters to get caught up.  At this time we will ONLY be accepting gently used or new coats of all sizes, hats, scarves, mittens and gloves to the Center of Grace. You may bring your donations on Mondays and Thursdays between the hours of 1 and 4 pm. If you have any questions please call us at the Center. 913-764-1353.
Have you checked out the church's website lately?
Take a look @ graceumc.church